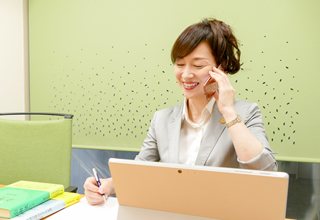 Naomi Iwasaki Administrative Scrivener
Director of Tokyo Administrative Scrivener Association Shibuya Branch
Since opening a legal office in April 2015, I have been involved in the establishment of more than 350 companies.
I also support many foreign companies expanding their businesses into Japan.
Since 2019, as an expert in establishing a company, I have been giving lectures on the administrative scrivener practical course "Corporate Establishment Business Theory" at examination guidance school "Ito Juku".
Message
I will provide support to establish your company with the speedy and detailed response through the experience of being a flight attendant.
If you are not sure about the establishment of a company or what kind of corporate form you would like, please feel free to ask me.
Career
Born in 1968, Oita City, Oita Prefecture.
After graduating from Seinan Jo Gakuin Junior College, I flew around the world as a flight attendant for eight years with Japan Air System and Singapore Airlines.
In April 2015 my office, Kaisha Express International was opened.
Since my parents was self-employed, I grew up feeling the difficulty of running a business. I have a desire to become an administrative scrivener that will help the company's business get going, and as a "strong ally of those who start a business". I establish a company, apply for a business license, apply for a foreign visa, apply for grants and promote customer growth. We provide thorough support from "takeoff" to "safe operation".
Having lived in Singapore for 4 years and the United States for 6 and a half years, I have a cross-cultural understanding. I work for those who want to start a business in Japan. So far I have received requests from entrepreneurs around the world such as the United States, Europe, China, Taiwan, the Philippines, Australia, Russia and Africa.
Strengths
I did establish a company for 2 days as the highest speed. I respond quickly without "keeping my clients waiting. "On top of that, we provide total support to customers who are expanding into Japan, such as various business license applications, visa applications, grants applications, financing, back office operations, etc. according to the company's vision. I am an expert who can give advice to start an optimal business form from a stock company, a limited company, a foreign subsidiary company, etc. I explain complicated procedures to my clients carefully in easy-to-understand words.
Seminars/Lectures
As a lecturer for the "Administrative scrivener practice course" held by "Ito Juku".
Since 2019 I have been giving lectures on the "Administrative Scrivener Practical Course" held by "Ito Juku". It is held for those who have passed the administrative scrivener examination.
Theose lectures are about "corporate establishment business theory" with the theme of establishment procedure of a corporation and about "manner and consideration " with the theme of business dialogue and etiquette with clients.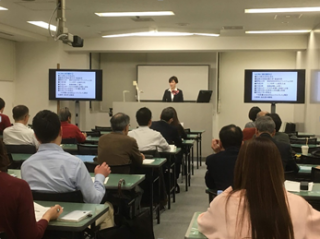 On February 8, 2020, at Ito Juku Tokyo School, I gave a lecture about foreign company's establishment at a study session for administrative scrivener. I received many comments such as "Easy-to-understand lectures backed by a plenty of work experience" and "It was the most useful for foreigner-related lecture". This is a compilation of the knowledge that I have acquired over five years regarding establishing a foreign company and business manager visas.
Organized "Business Manner Seminar for Cool Administrative Scriveners" at a workshop by Shibuya Branch, Tokyo Administrative Scrivener's Association
The workshop was held via Zoom on November 25, 2020. From basic protocol of "cool" appearances and expressions and "cool" way of exchanging name cards and answering calls, to new manners required in the "New Normalcy" under the pandemic, organized a fun and fruitful session combining roleplay, etc.
Articles posted
I was interviewed by Oita Joint Newspaper, my hometown newspaper, as "a successful person from Oita".
I talked about how I became an administrative scrivener and my thoughts and resolutions on the work.