I would like to open a shop of Laksa in Japan , which is popular at Singapore stalls.
I would like to open a shop in my home taste Persian cuisine in Japan.
I would like to start a shop of tapioca milk tea in Tokyo that is famous in Taiwan.
There should be many foreigners who might think that "I'd like to start a restaurant business in Japan".

Nonetheless, I think that there are many people who have the following concerns.
I do not know what to do first for opening a shop in Japan.
I want to open a restaurant, but can I start without a Japanese partner?
What kind of procedure is required and how long does it take to open it?
In fact, recently such inquiries from foreigners have been increasing at our office.
For those who have such concerns, we will introduce real estate companies, advice establishing outpost and guide seminar for food hygiene managers, from the application to acquisition of food business license, we support a series of procedures until opening restaurants.
In this page, when a foreigner starts a restaurant business in Japan, I will briefly explain the permission procedure and subsidies that you would like to know. If there are any points that are difficult to understand, please consult our office with phone, email etc.
Type of the business and necessary qualifications when opening a restaurant in Japan
"food hygiene manager" is necessary in any type of food business
Even if you say a restaurant as a whole, there are various styles such as a mobile cafe using a one box car, a drink stand, and a dog cafe where you can come with a pet from a cafe / restaurant with actual stores.
The minimum requirement for opening a restaurant in any types is to put a person who has the qualification of "Food Hygiene Manager".
When opening a restaurant, it is necessary to put one manager in each facility without fail, and when the restaurant is opened, notification of the food hygiene officer will be made to the health care center.
To be a food hygiene manger, even if you do not have qualification of a cook or nutritionist, you can be qualified if you take a one-day workshop held in each prefecture. The tuition fee is around 10,000 yen, the duration of the course is usually one day.
However, as those who have an address in Japan can attend this course of food hygiene managers, it is inevitable that you need Japanese or a partner living in Japan as a resident.
Property Selection and Floor Plan for Acquiring Food Business License
The most difficult thing for foreigners is the contract of the property.
Basically, it is almost impossible for a foreigner living abroad to make a contract. Cooperation from partners living in Japan is required. If you find a good property, please send a floor plan to our office first. In order to acquire the food business license there are installation conditions such as cupboards, hand washing places, water supply facilities, etc. If they do not meet these standards, you can NOT start business.
Even the property you rent with difficulty, if you do renovation in order to obtain food business license, unnecessary costs will be incurred.
Flow from acquiring food business license to opening restaurant after establishing company
If you make a contract for a restaurant property after the establishment of the company, you need an original copy of the registry or a seal imprint certificate at the time of contract.
On the other hand, if a property is found before the establishment of the company, you will  make a contract under the individual name at first. After the establishment of the company, you will revise the contract name from the individual to the company name.
Please see summary of the flow chart so that you can understand.
6months ago
・ Restaurant Property Search

・Preparation for company establishment
(Determine corporate form, company name, shareholders, business contents, capital stock etc)

3months

ago

・Contract for property

・Application for company establishment registration

・Company establishment registration completed

1month

ago

・Shop construction

・Purchaser selection

・Create signboards, menu books, etc.

・Prepare furniture and fixtures

・Apply for food business license

1week ago
・Acquisition of food business license
Open
Open
※In addition, when opening a restaurant and opening the service hours in the evening and starting the service of alcohol, in addition to the food business license, it is necessary to notify the other license of "Serving Alcoholic Beverages at Late-Night ". Since there are conditions for notification of the license of "Serving Alcoholic Beverages at Late-Night", it is important to proceed while checking the requirements of notification in advance when you operate a restaurant that offers alcohol at night.
Advertisement for attracting customers is to make good use of subsidies
Once you get the food business license, now is the time to open the shop. Since the food and beverage industry requires the acquisition cost of store properties, it is more important than anything to get to know the existence of the shop by using subsidies well. The advertisement expenses such as the setting of the homepage, the flier, the signboard etc. are unexpectedly  expensive.
We encourage you to utilize the subsidies by the national government and municipalities, and then conduct public relations activities.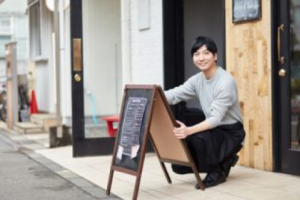 As a result of our support, many restaurants have used subsidies to develop sales channels, resulting in a substantial increase in sales.
Our office is also applying for subsidies in response to two languages of Japanese and English . We made many achievements as a result of supporting foreign entrepreneurship.
As simply explained above, please be noted that the necessary procedures and points of attention when foreigners start a restaurant business in Japan.
On top of the opening process of restaurants, our office conduct consultation from day to day for foreign business person about a wide variety of subjects , such as opening corporate accounts, visa procedures for officers and employees.
Those who want to start a restaurant, those who do not understand procedures, those who would like to consult about subsidies and visas at once, please do not hesitate to consult us. Since free counseling is also held, please contact us by phone or email first.